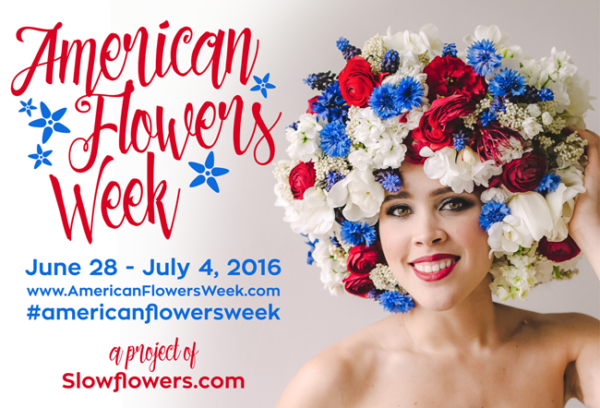 Slowflowers.com, the comprehensive online resource that connects consumers with local, seasonal and sustainable flowers, announced details about the second annual "American Flowers Week", which takes place from today thru the 4th of July!
In 2015, Slowflowers.com creator Debra Prinzing organized the week-long celebration of domestic flowers to raise consumer awareness and unite America's flower farmers with the U.S. floral industry. In one month that effort generated more than 400,000 social media impressions on Twitter and Instagram, demonstrating the power of images, ideas and values that promote American Grown Flowers.
"Consumers are more conscious than ever about the origins of the goods they purchase, especially when it comes to food — and flowers," Prinzing said. "It's important to raise awareness for and celebrate American grown flowers, as well as flower farmers who grow a diverse selection of botanicals for the cut flower trade. At the same time, we salute floral designers whose ethos and intent inspires them to source domestically."
The goal of American Flowers Week is to engage the public, policymakers and the media in a conversation about the origins of their flowers. As an advocacy effort, the campaign is timed to coincide with America's Independence Day on July 4th, providing florists, retailers, wholesalers and flower farmers a patriotic opportunity to promote American grown flowers.
Show your support by designing a Red, White, & Blue Floral Arrangements, designed with American Grown flowers, of course, and post it to Social Media with the Hashtag – #AmericanFlowersWeek
PS- The Flowers designed in the American Flowers Week campaign are by Susan McLeary of Passionflower.
Related posts: