Last week Chuck and I went on a fast paced trip to the east coast, we left Denver at 1am on Sunday morning – after having both worked weddings all day Saturday. Oh red-eye flights, aren't they something… We arrived at Dulles at 9am on Sunday morning, Alex Jusino's flight arrived within minutes of our flight and the three of us were picked up by Holly and her sweetie-pie daughter, Grace. This was the start of our four day action packed trip, we left on Wednesday on the 10pm flight, arriving in Denver at midnight. The next day Chuck started his new position at BLOOM by Anuschka and I had a wedding to design for Friday. Getting away during wedding season can be difficult yet at the same time so refreshing!!
First Stop: Holly's dad's Heider Farm Market. It's pretty obvious to see where Holly's love of flowers and gardening came from!! The market was full of fresh baked pies – hello Strawberry Rhubarb!, flowers, plants and all kinds of other specialty foods.
Right across the street is the antique store – On A Whim Antique Boutique, if you follow Holly's blog you've certainly heard of this adorable antique shop.
We also stopped by Old Lucketts Store. There was so much to look at but dang it was hot out and we all tried to look quickly so we could get back into the air conditioned van!
Anyone want to guess who we visited next??
Do you know who this man is:
If you guess Don from Don's Dahlias you are right! So awesome to finally get to visit Don's Dahlias and see his field of dahlias + all the other pretty flowers he grows: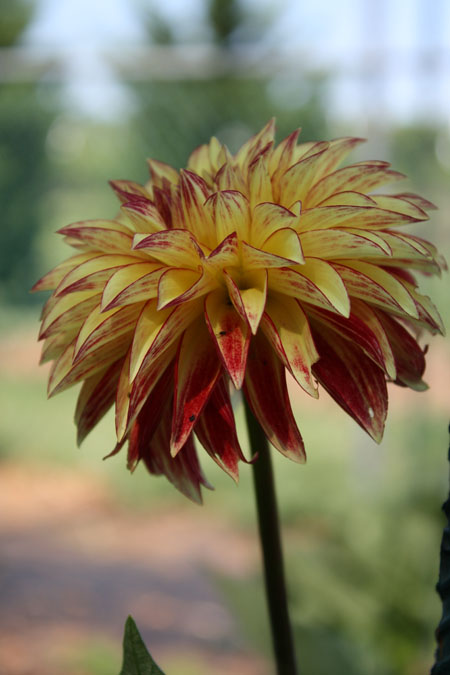 Off to Holly's House we go, so much to see and do. I was quite the fan of the swimming pool, an oasis in the hot & humid Virginia temperatures!
Thank you, Holly, for opening up your house to us! Thank you to Evan for cooking up all kinds of delicious meals for us and making lots of coffee! So glad we got to spend time with Trish & Alex and with the amazing David Beahm. Really a great and inspiring trip to Virginia. xoxo 🙂
Related posts: