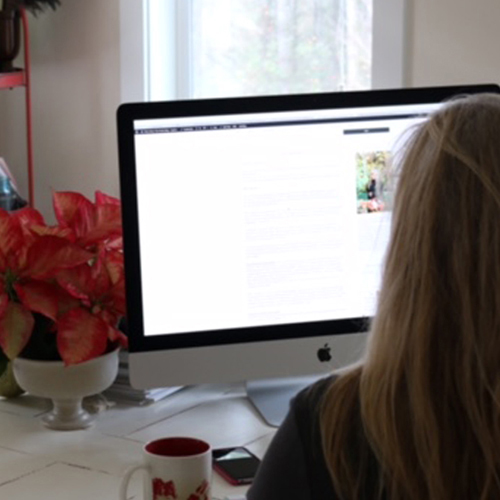 Hello dear Flower Friends,
How are all of you? I hope you all had a wonderful wedding season and are finishing off the year strong with Holiday events!
As for me, well, I have a lot on my mind and need to share it with all of you.
First, we need to back up and review 2017 before talking about where I see Flirty Fleurs Blog going in 2018.
2017 In Review
If you've been following along with the blog you may have noticed that I've barely posted in the last four months. Very out of character as for 7+ years I made sure this blog had content posted 5x per week. I squeaked out a few posts in August and then all but disappeared. Thankfully, Michelle and Rachel have been here posting and keeping the blog alive.
What happened to me? I got bored. Yes, I just said it. I said it to you and I said it to myself. I did not get burned out as I've been very busy and very content in the flower world all of 2017. In fact, this has been one of the best years for my business and filled with all kinds of wonderful adventures in the flower world. BUT as far as blogging goes – I got bored.
In September I went on a 3 week vacation to southern Europe where I instructed myself to get off social media and take some time away from technology to see if I could re-set my mind. Well, the good news is that I throughouly enjoyed my vacation and really didn't want it to end! The not so good part is when I came home I still didn't feel like jumping back on the blog.
In the past I would have powered thru and pushed myself to keep posting content daily. This time I decided to back off and ponder why I was feeling such a discontentment with blogging. After much pondering and asking myself deep questions, and talking to a few friends I have come to a conclusion on why I feel the way I feel about blogging.
Over Saturation of Information – Pure and Simple, everyone is online constantly publishing their latest and greatest to Social Media. YES, this is a necessity because in a very full field a business must sing their own praises and share the best of what they have available. In addition to so much to take in on Instagram and Facebook pages are all the Facebook Florist Forums, Podcasts, Online Workshops, etc – the list is long and pretty much exploded in 2017. Yes, these are all great tools for florists to partake in … but as far as a blogger goes I suddenly feel like I've seen and heard it all.
What can I possibly share on a blog that isn't information that has already been shared many times over elsewhere in social media?
When I started Flirty Fleurs, and back in the days when Chuck was on board with blogging, we'd dig and dig and research floral businesses and always felt like we were making a discovery. We'd get excited and couldn't wait to share our interviews and findings with all of you. Seriously, us flower nerds would be up at 4:30 or 5am texting each other and saying — hey, look at this NOW! Fast forward to 2017 and  I feel like it's all out there and you've probably read it in a forum or on an instagram post anyway….
The Plan from Here and into 2018
So where do I go from here with Flirty Fleurs Blog? Believe me, both you and I are wondering what the answer is to this questions! A few thoughts so far…
In time I have learned to not be so hard on myself. This time when the boredom seeped in I did not push myself to keep posting when I really need to step back and think. This is a huge change for me as I typically will just keep pushing myself. Sometimes it is necessary to back off and look around and re-set goals.
We are not publishing a 2017 Print Issue of Flirty Fleurs Magazine. The magazine is a passion project and since I wasn't feeling too passionate this season it seemed best to not push a magazine — as that is a HUGE undertaking and is driven by passion. This isn't to say we won't do it in the future, but it'll be when the passion has come back.
I'm so thankful to have Michelle here posting Wedding Wednesday blogs. Michelle was my right-hand, amazing design assistant at my flower studio Bella Fiori for 5 years. Having her on board here for the past year of blogging has been a god-send. Personally I enjoy seeing what she'll post every Wednesday — it's like a fun surprise for me, too 🙂
I'm excited to have Rachel on board for blogging projects. Last week we sat down and had a meeting about what to post in 2018 and she has some wonderful series in the works.

Most Importantly will be the new blogging schedule.

We had been posting 5x per week for many years, until I came to the realization that in addition to me becoming bored with blogging — all of you are probably also over-inundated with information. The last thing I want to do is add even more reading to your list of things to do! Instead we are going to fine-tune our posting schedule.


Our plan for 2018 is to post TWICE per week.


Yes, huge adjustment, but in the end probably better for everyone. On Mondays, there will be an interview or series posting by either myself or Rachel. On Wednesdays, Michelle will continue with Wedding Wednesday where she selects a variety of designs from floral designers around the world to feature. *IF* I am struck by something interesting or have something that I must share and it can't wait until Monday then I will post it on Friday.
As a way for me to continue to share the work of other floral designers I have started the new Instagram account @fetedesflirtyfleurs — so be sure to add the hashtag #FeteDesFlirtyFleurs  or #FlirtyFleurs onto your posts for a chance to be featured!
So there you go, that's how I'm feeling these days! Honestly, I've been putting off this post and waiting to see if my feelings towards blogging would change — yet, now that I've written the post I can tell you all that I feel like a huge weight has been lifted off my back!
I do want you all to know how much I appreciate all of you, thank you for joining me on this flower filled journey.
Wishing you all the best in 2018!
Warmly,
Alicia
Related posts: