Hello to 2015!
How is it the year 2015 already? Seems like just yesterday that I was sitting at my job at the software company in San Francisco, all of us so worried about Y2K – do any of your remember that, or was that only a worry for us geeks in the software world!? Gosh that was 15 years ago…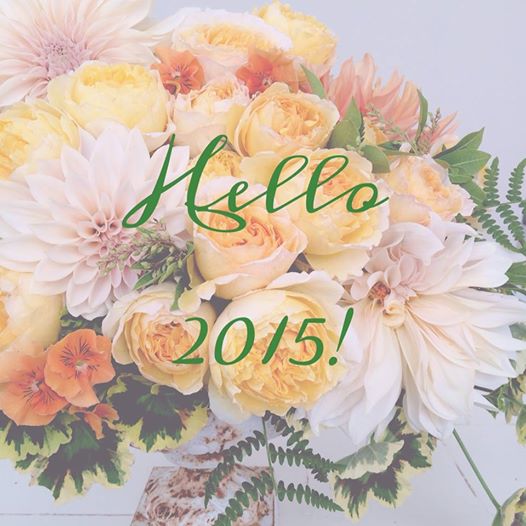 So here we are … 2015. What does the year ahead hold for all of us? I always find it interesting that every year everyone says that it'll be the best year yet. What I've learned in my lifetime is that every year has good, every year has bad. I suppose the bad makes me appreciate the good more. Overall I'd say 2014 was MUCH better than 2013. For me there was too much loss in 2013, too many friends who left this place way too young, a lot of sadness I had to process, a lot that I questioned. As for 2014, it turned out pretty darn good overall – my husband and I bought a house in Arlington, Washington that I'm in love with – we had a great time working on the one acre this summer. I have way too many dahlias. Ok, I really don't have too many dahlias, no one can have too many dahlias!! I'm already craving spring and for the 500 peach and white daffodils lining the driveway to pop! That's going to be awesome. I got to take two trips to Europe in 2014, I love going to Europe… First to England in the spring and The Netherlands with Florabundance in the Fall. Three months this summer were spent working at Seattle Wholesale Growers Market – was so great to get to know the farmers and florists better in the region! This holiday season I worked for my friend Miles of Fiori – his shop was so busy for the holidays. Oh yea, and some little project called Flirty Fleurs Magazine happened!!! On Thursday I will do a picture re-cap of 2014 in review.
So yes, overall 2014 was good. Sure there were some bumps, my father-in-law was diagnosed with cancer and my mother-in-law had two heart attacks (surely due to the stress of her husband being ill) – but both are doing good now and on the road to recovery. We've been saying how much they'll really enjoy retirement life now!! Also, my darling like Pekingese became deathly ill in October, no idea what he came down with, but he is better now – thankfully!
Gosh I'm rattling on & on!
Ok – so 2015. What resolutions and/or goals are you setting? I never much cared for the word resolution, sounds so daunting. I much prefer to say GOALS.
So my goals.
#1 – Read More. This might sound odd at first, clearly I read a lot because I'm always online sharing articles that I'm reading, right? It's a different kind of reading that I need to get back into – reading books and newspapers. I've gotten so bad about reading actual novels since I'm always online skimming blog articles. I also need to get back to reading the Wall Street Journal. I grew up reading that paper since both my dad(retired) and brother work for WSJ. Bottom line, I need to refocus where I'm spending my time, pretty sure a little less time online will be a good thing.
#2 – Don't overthink. I actually did this last year, I gave up on trying to over-think and over-plan when nothing worked out the way I thought it should in 2013. So in 2014 I started the year with no clue what was ahead .. and really it turned out fine. Things came up last minute and they were fun things. So as I head into 2015 I will not over-think or over-plan, I'll just see where the day takes me.
#3 – The nice thing about goal #2 is it makes me not have to worry about any other goals. HA! I do crack myself up.
SOOOOO — Flirty Fleurs.
Rose studies, Alison Ellis business videos, Fabulous Florist interviews, Wedding Wednesdays, Q&A Series – they are all in process —>>> thank you for your ongoing support as we keep on going on with all things flowers.
Plus, check the Workshops link above and join me for a design class!!
And in just a few days I'm headed to Santa Barbara for Florabundance Design Days — really looking forward to meeting a bunch of you!
So that's it for now .. Best Wishes to all of you for a fabulous 2015!
xo,
Alicia
Related posts: