It has been a year since "The Arrangement" has been on Logo and we last talked to you, What have you been up to?
Has it been a year already!?! Wow! Since the moment the show ended, I have been going wonderfully crazy! I've been on the radio, published in magazines and newspapers, on Good Day LA's Style File, flown to Miami to teach floral design for a charity event, created landscapes for art shows and events, styled photoshoots, been involved in bridal shows, flown to Colorado and Oregon for weddings, and met some amazing people and developed a great network of vendors I couldn't be more excited to work with. And of course, had the opportunity to create some awesome weddings, one of which was complete with a monkey passing out petals, a fire breather performance, and a room filled with 300 hanging roses…my creative juices have been monsooning!
When we last talked you were announced as the winner of The Arrangement and preparing to move your design space out of your parents house and into your own space, How is the new space?
I moved into an amazing space in downtown LA for a few months but had started working in Santa Barbara and realized that that was where I wanted to base my business, so I have opened a little studio up here. My time is now split between LA and Santa Barbara and I couldn't be happier.
How would you describe your design aesthetic?
I get to design the gritty, artistic vibe for my LA clients and then design the laid back luxury of my Santa Barbara clients, it's a perfect blend of my own style.
How has you design aesthetic evolved over the past year?
My design aesthetic has definitely evolved, but it's not a "style" as much as it is a "personal styling". With so many wonderful and different personalities out there, having a single style you're known for doesn't work. Brides want that special touch, created just for them, so I style each and every piece based on each individual client. From the vintage-ranch wedding to the glamorous estate affair, I love to design it all. I'm constantly learning and growing in my art, and because styles change so rapidly, I progress with the trends, often developing my own because it's so much more fun that way!
Looking back at the show, What arrangement are you most proud of?
Looking back at the show, I am still so proud of that wedding gown. The thing was ridiculous! I actually recreated it for a bridal show and people thought I was a dress designer! I love it and would love to create something similar for a bride to wear someday!
Which one are you still asking yourself "What was I thinking?"
The seedling challenges were so stressful for me. Most of those I would ask myself, "what on earth was I thinking!?" I think my tacky vampire fabric floral arrangement was the worst thing to date. Hahaha.
What has been you professional highlight in the past 12 months?
In the last year, I'd have to say my professional highlight has been being sought after based on my talent and then given carte blanche on design. I mean, to have a client pay me to come up with whatever I want to design for their wedding is such an honor. I really love what I do and when I am given the freedom to go wild with design, you're not going to be disappointed.
What is the greatest challenge facing the floral industry today?
As always, flowers are competitive and brides want the best of the best…and everyone claims to be the best of the best, so in order to maintain a steady stream of work, your designs have to speak for themselves and always remain consistent. There have been times when I've bought flowers for a client and the day of delivery, they just weren't looking as fresh as I wanted, so I ran out and bought new flowers, because that is what represents me and my work. I will not ever deliver what I would not accept for myself.
What has the exposure you received from being on the show done for your career?
To be honest, the main exposure has been in the floral world. Everyone recognizes me at the flower mart, and it's been really fun chatting with other florists who I never would have met if the show hadn't aired, but other than that, I was able to use the money won to hire a PR firm, set up at bridal shows, and meet other people in the business. It's been an amazing process and is almost overwhelming when I sit down and think about it.
Are you still in contact with the other 9 designers?
I am in contact quite often with a few of the other contestants, Anil and Tara especially. I've become so busy that I barely even see my friends anymore! I am so thankful for the experience from the show and for meeting the other 9 designers. It's something I will never forget and I'll tell my grandkids about someday.
What else would you like to tell us?
Find what you love and do it, even if it means moving home for awhile, taking the bus, and working out of the backyard. Life is too short and too amazing not to follow your dreams. I love what I do and every single day I thank my lucky stars that I stuck it out and am now able to create something new every single day. 

My dream came true so I make sure that I make my clients' dreams come true too.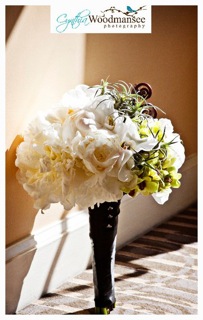 For more information, please check out Tenley's website at http://tenleyerinyoung.com/
Related posts: