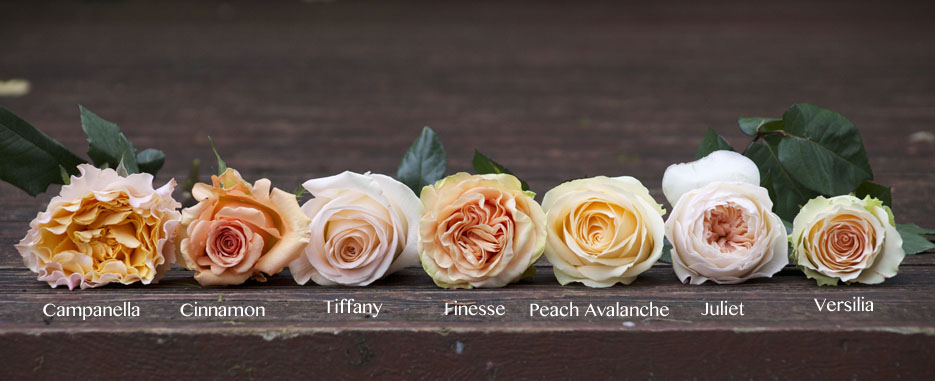 How gorgeous are all of these Peach Roses?! Honestly, I cannot select a favorite one as they are all beautiful! For two weeks we watched these 7 beauties open into beautiful blooms.
A special Thank-you to Amato's Wholesale in Denver, Colorado for providing this nice selection of lovely peach beauties for the Peach Rose Color Study!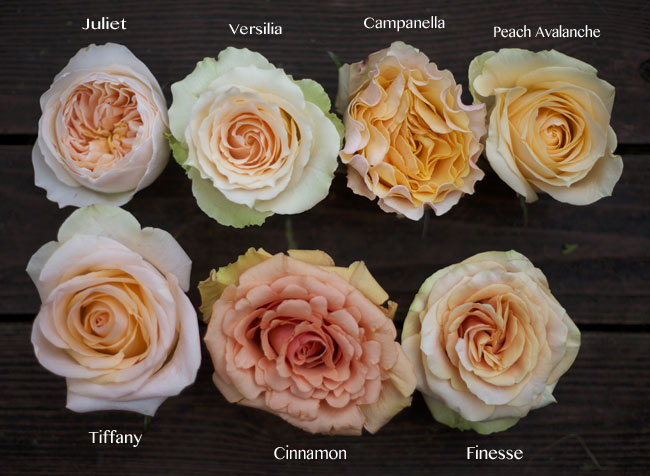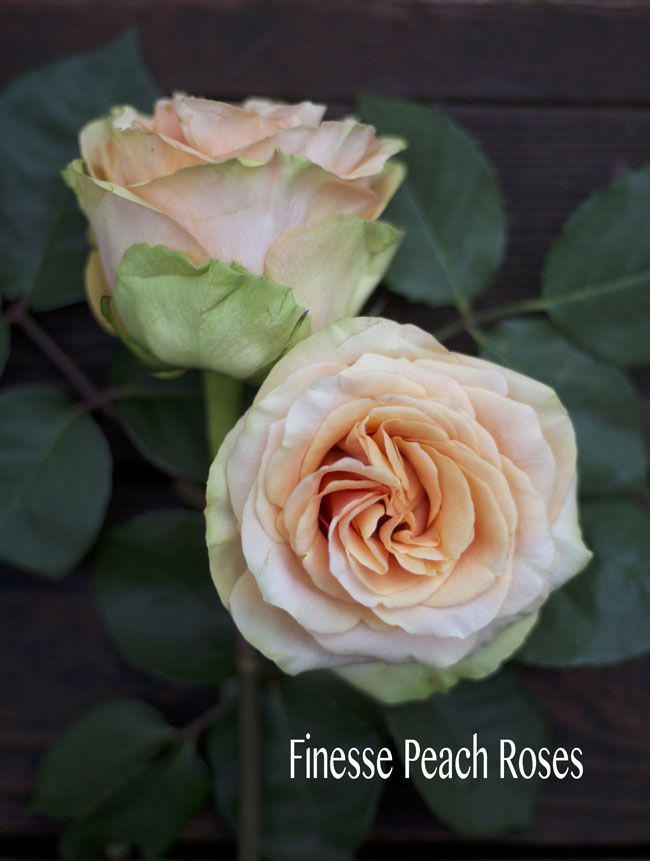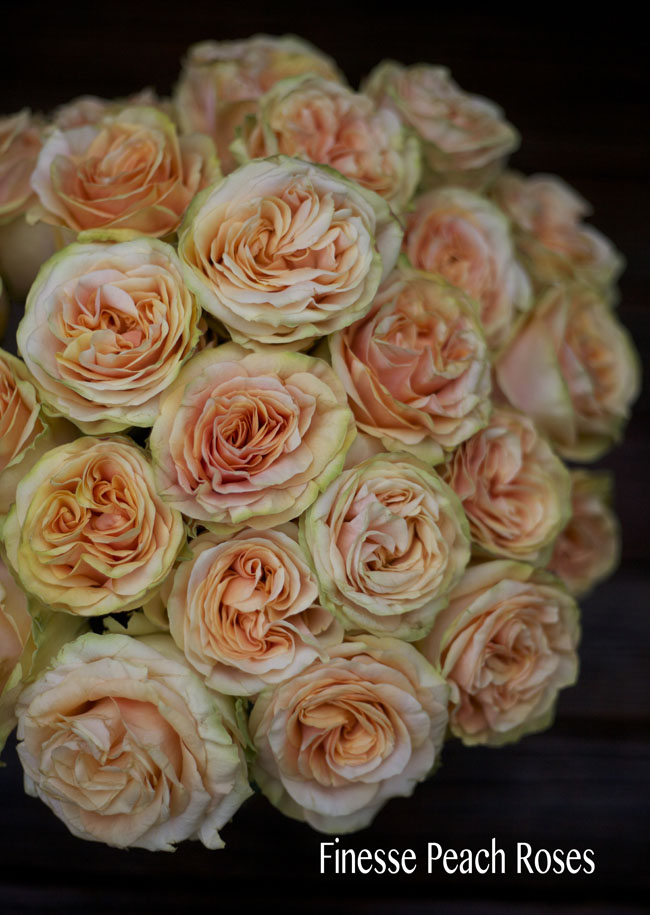 Name: Peach Finesse
Grower: Rosaprima, Ecuador
Vase Life: 9 Days
Details: Bright peach, outer guard petals have a green tinge. Each bloom can vary in color, in the 25 stem bunch some of the blooms will be a brighter peach than the others. Very packed petals and heavy head, petals stay compacted and do not open much. The petals can get creased during packaging and transport. Nonetheless, Peach Finesse does tend to be one of my favorite go-to peach roses as I love it's bright peach coloring. It packs a lot of punch in those tight petals!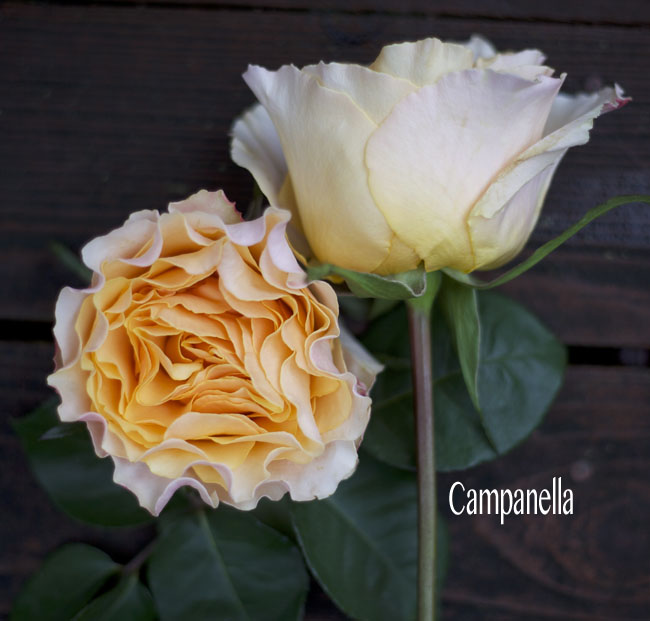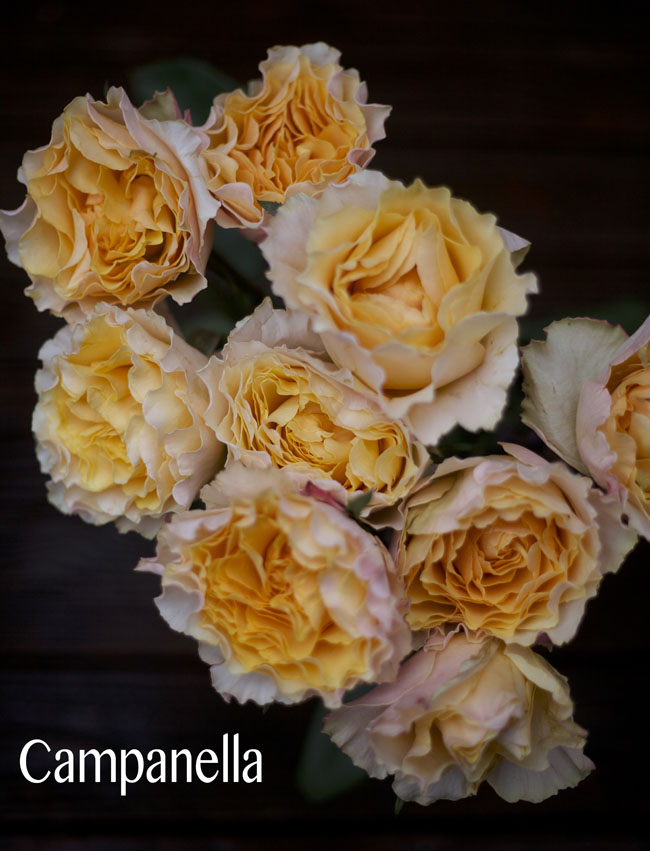 Name: Campanella
Grower: Nevado, Ecuador
Vase Life: 5 Days
Details: The blossom opens up very large, a good 3+" in width, perfect for taking up a lot of space in an arrangement & a very ruffly petal structure like a garden rose. This particular batch had a yellowish-peach tone to it. I've been a fan of Campanellas for some time and would say that normally they are a more solid Peach than the roses shown in these photos. Nevado Campanellas are packed 10 Stems to the bunch, so be careful when ordering that you order by Stem Count.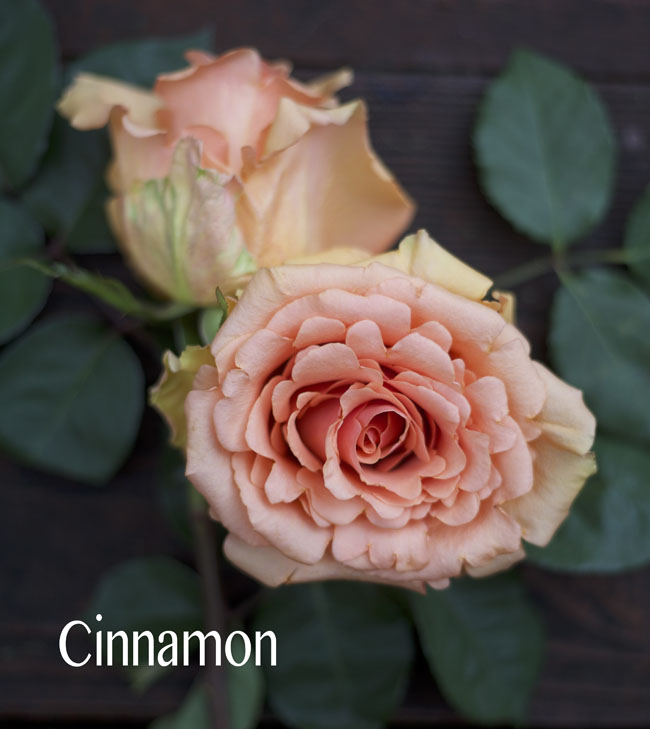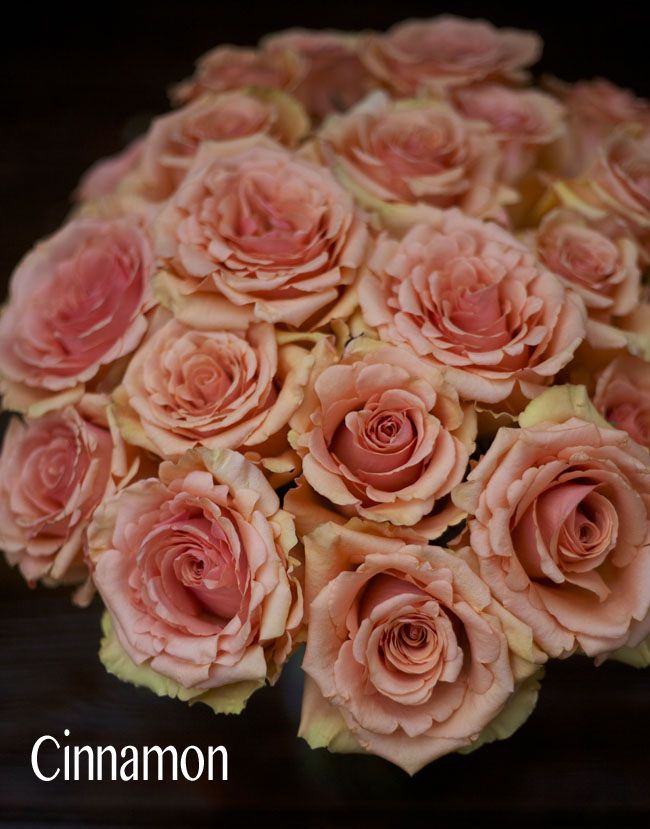 Name: Cinnamon
Grower: Sisapamba, Ecuador
Vase Life: 12+ Days
Details: Rich, dark Peach – borderline Orange color, opens very nicely into a large head and fades into a Salmon color after a week or so. Very long lasting, tied with Versilia for the longest vase life. Ruffly outer petals and almost 3″ in width, sturdy stems. 25 Stems to the bunch. This was my first experience with Cinnamon and I'm quite impressed with its bright color and pretty bloom.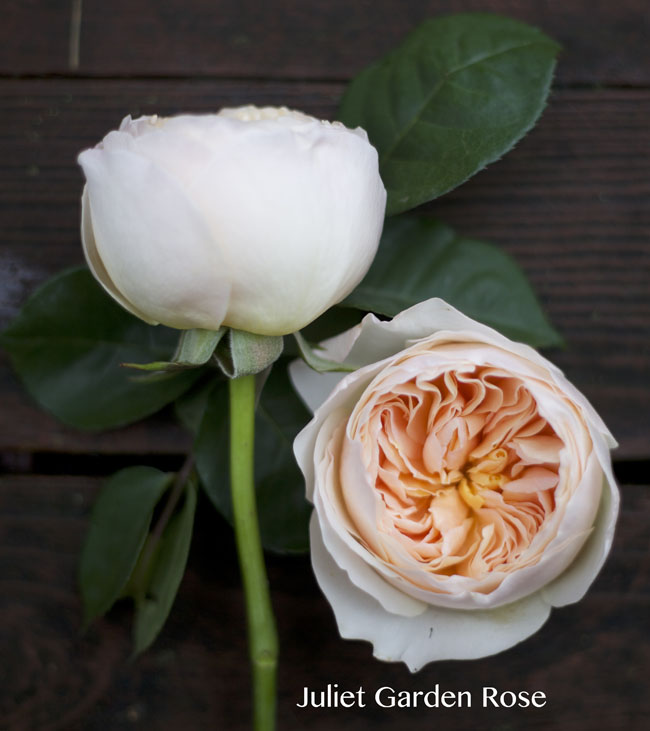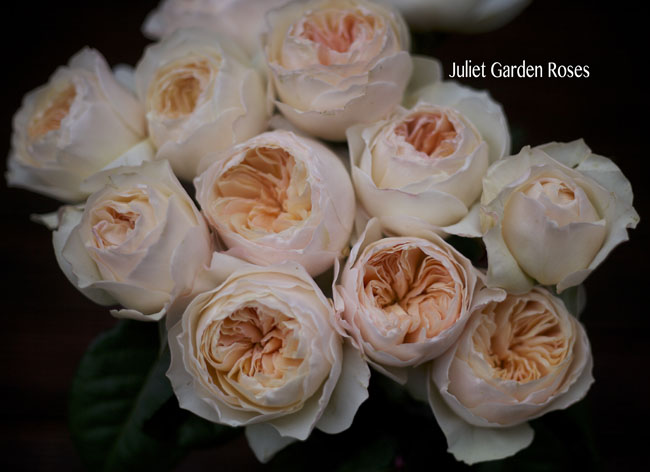 Name: David Austin Juliet
Grower: Rosaprima, Ecuador
Vase Life: 7 Days
Details: The perfect pale peach color, opens to a nice 2.5-3″ in width with a lovely garden rose shape. Delicate stems and the outer petals can tear easily, handle with care! Juliets are packed 12 stems to the bunch.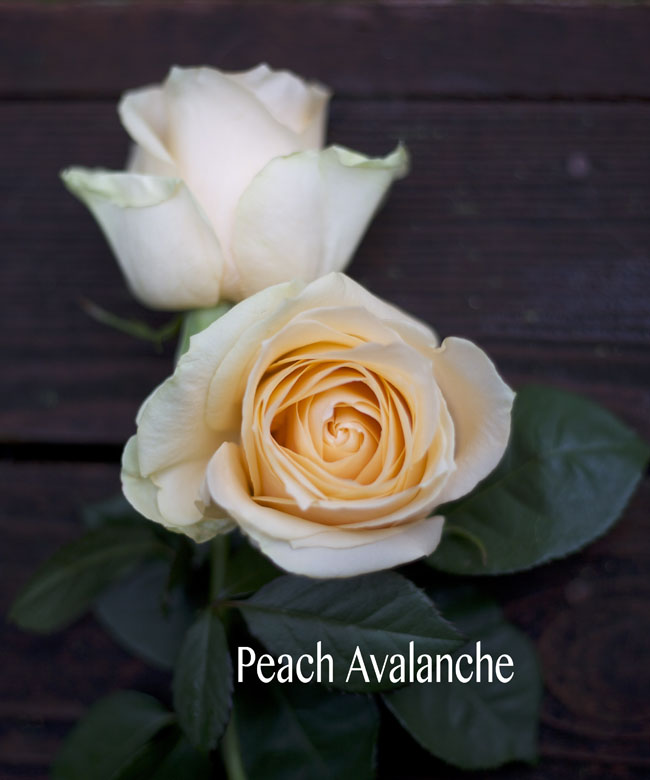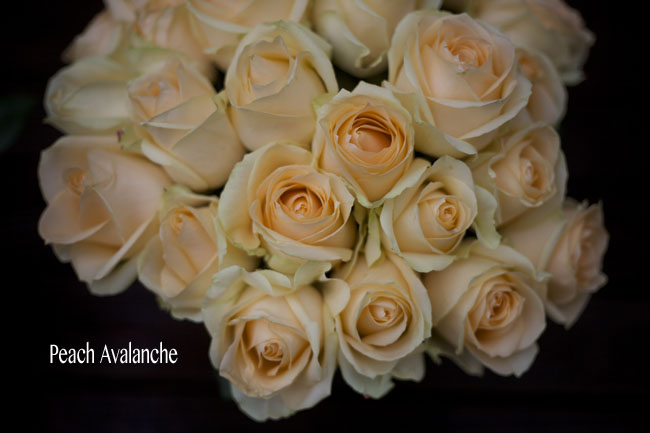 Name: Peach Avalanche
Grower: Eufloria, California, USA
Vase Life: 10 Days
Details: Peach with a yellowish tinge to it. Solid and consistent coloring on all petals. Nice Rose shape, doesn't open very wide. Good amount of foliage and thorns to clean on the stems, slightly soft stems and petals. 25 Stems to the bunch.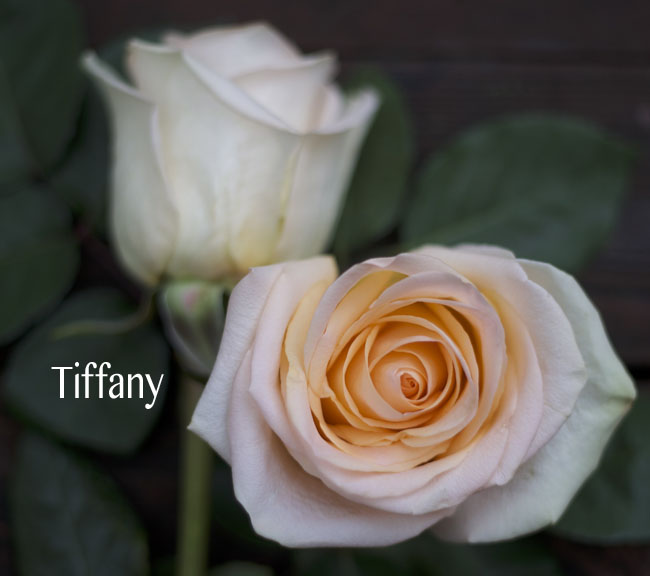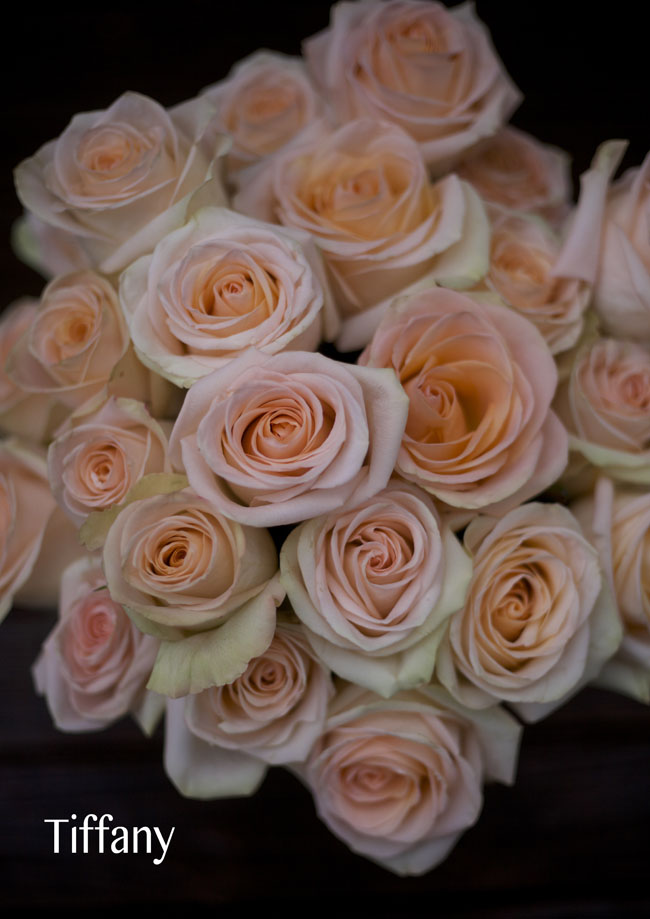 Name: Tiffany
Grower: Royal Roses, Ecuador
Vase Life: 10 Days
Details: Very pale peach with a pink hue to it, stays in a tighter rose shape and doesn't open into a wide bloom. The color is solid through all petals, even the guard petals on individual blooms. Yet, each blossom in the bunch of 25 stems can differ some, some roses will be a paler peach and some a brighter peach. The stems are strong with almost no thorns and the foliage is easy to remove.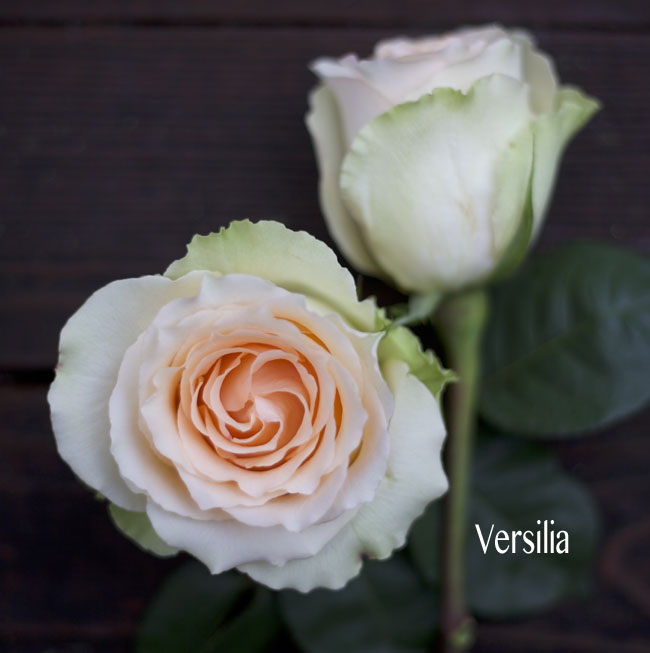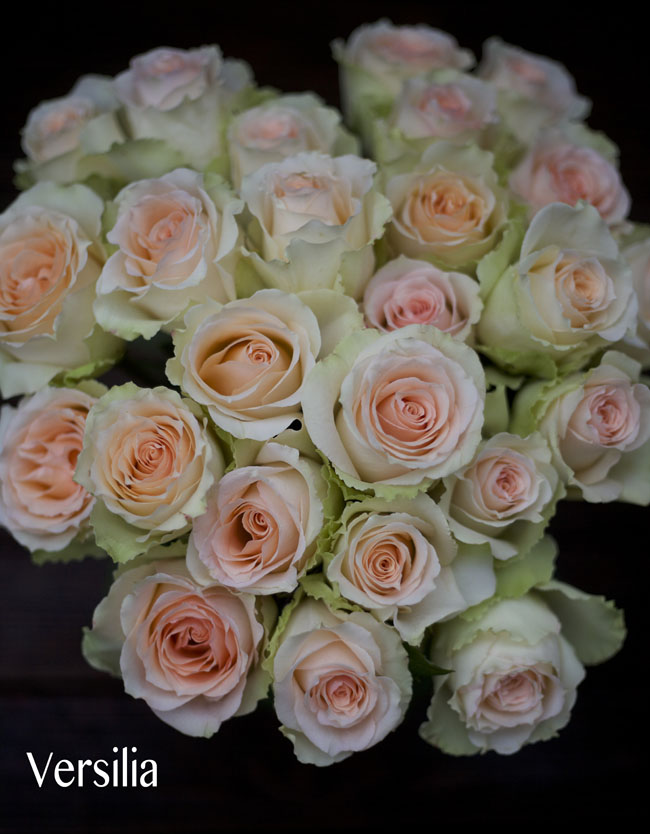 Name: Versilia
Grower: Royal Roses, Ecuador
Vase Life: 12+ Days
Details: By far the longest lasting rose in the bunch! Day 12 and I'm looking at about 10 of the original 25 still blooming. The guard petals are a light green, outer petals are a very pale peach and the inner petals are a blush peach. Very delicate peach color. Strong stems with a very few thorns.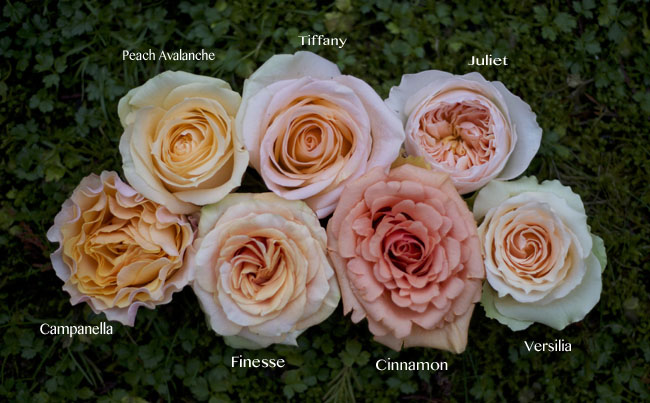 A few notes:
I did not use any flower food or any other 'helpers' such as quick dip. These roses were placed in fresh water after processing.
I do not cut stems under water.
These roses were never placed in the cooler, they've sat out on the table for the entire study. The temperature ranges from 65-69 degrees.
On Day 17 I still have 6 stems of Cinnamon Roses sitting in a vase at my desk.



What do you think? Which Peach Rose is your favorite? Which one do you want to try now?

A very big Thank-You to Amato's Wholesale in Denver, Colorado for providing the roses for the Peach Rose Study.

Contact Information:
Amato Wholesale Florist
http://www.amatodenver.com
CALL US TOLL-FREE: 1-800-447-3825
Tel: 303-287-3329
6601 Downing Street, Denver CO 80229
Related posts: