One of my favorite blogs to follow is Botanical Brouhaha, Chuck also checks this blog almost daily. Amy fills the blog with five entries a week and each day I find myself wondering what she'll have in store for us readers. Chuck & I chatted and thought how fun would it be to get to know this wonderful woman behind the blog?? We are also including some photos of her beautiful floral design work!
Why did you decide to write Botanical Brouhaha?
After 8 years in the flower business, I decided to close my studio and spend more time with my family. I have two sons who were growing up fast and my mom was experiencing some serious health problems. I was worried that I would have regrets if I continued the break-neck pace of the wedding business while my family needed me. While I was confident in my decision to take a break from the business, I missed flowers and "flower people" in the worst way. I knew I had to find a way to stay connected to the industry and indulge my love of flowers…writing a blog made the most sense to me.
When did you start Botanical Brouhaha?
On July 20, 2009…it was my birthday present to my self that year!
What are your goals with writing BB?
My main goal in writing BB is to connect with other designers and bring them inspiration each day. Once my business grew to a certain point, I found myself struggling to find the time I once had to look for inspiration and keep up with wedding trends. Days were filled with consultations, paperwork, phone calls, ordering, processing flowers, designing…you know how it goes! I had a vision when I started writing BB of designers sitting down before starting their day, grabbing a cup of coffee, flipping on the computer and quickly experiencing a shot of inspiration. Since I no longer have the added responsibilities of running a studio, I feel like, in some small way, doing the research and bringing it to the designers in a concise format is my way of giving back to the industry I love so much. I also enjoy receiving emails from readers and addressing questions/issues they bring to my attention. And, of course, I'm always thrilled when brides, flower lovers and aspiring floral designers visit the site for ideas and advice.
What is your background in the floral industry?
When my husband and I bought our first house, we developed a love for gardening which grew into a passion for growing cut flowers. I tried my hand at growing and selling cut flowers for a couple of years only to realize that the flowers I loved most don't grow in Texas! The owner of a local Bed & Breakfast asked me to design cut flower arrangements for her cabins using my flowers…and the rest is history, as they say. I was even more passionate about designing and knew it was the direction I wanted to take the business. Before long, I was building a studio and signing contracts for weddings. It was a blissful time for me…hence the name, Bliss Flower Studio.
Why are flowers important (to you)?
Wow…let me list the ways flowers are important to me! Flowers remind me of my grandmothers who loved gardening. Flowers make people happy. Flowers bring together amazing groups of really nice people…gardening clubs, floral designers, community gardeners, urban gardeners, charitable gardening groups. Flowers represent simplicity and beauty to me. I can't imagine a world without flowers…so thankful God decided to bless us with them.
How do you pick your subjects?
I feature designs that move me. I'm constantly amazed after looking at hundreds of designs, there is always another that makes me gasp and thrills my soul. There are lots and lots of designers and arrangements out there, but some just speak to me and I love sharing those with others. Some of the designers I feature have "picked" me by reaching out to me in emails. I've developed some wonderful flower friendships that way.
As a florist, how effective is branding, website, blog, and social networking?
Branding, website and blog are crucial, in my opinion. Social networking is also important, but not as crucial to me. Clients need to be able to locate a designer, understand the designer's style, connect with the designer as a person, have faith in the designer's professionalism and communicate with the designer. Carefully branding a floral design business, creating a website to reflect the branding and blogging often about designs and events unique to the business will provide a solid base for success. Many times I fall in love with a particular designer the minute the Home Page finishes loading on my computer…and vice versa…if you know what I mean…
What would you be doing if you did not write BB?
Going crazy from pent-up floral passion!
You can find the blog at:
botanical brouhaha
Here are some photos of Amy's divine floral designs: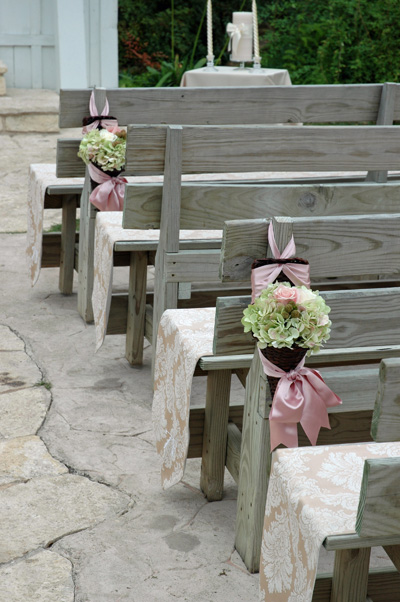 Related posts: