Today we have a special guest, Margot Shaw, who is the founder and editor of my favorite magazine – flower
Margot, Please tell us a little bit about what prompted you to start Flower Magazine.
Well, I've always loved beauty, and words, and had worked in floral design for a few years, unable to find anything with a floral/lifestyle message on the newsstand, and one day had the idea to start a magazine devoted to flowers in every incarnation.Living in Birmingham, Alabama, the home base for numerous national publishing houses made my job easier, especially as I was a complete novice. But the idea began to take "root" and I've had amazing help, support, lots of God moments, and incredibly rich experiences in these last 7 years, as we've grown and increased to bi-monthly from quarterly.
What is a typical day in the life of a magazine editor?
Interesting question. For me, there is no typical day, as every day is different. Depending on where we are in the editorial cycle, what special events are on the calendar and where I might be speaking, I can be in the office looking at cover options, or in Chicago presenting to a garden club, in New York meeting with advertisers and flower world folks – my day is never boring. Plus I'm surrounded by interesting, beautiful places, gardens, people, etc. – not exactly rough duty…
As you know, the majority of our readers are floral designers and I'm quite sure
they'd like to know how to submit to Flower Magazine. Any tips?
EASY!! Just email pitch, images, etc. to editorial@flowermag.com –
We LOVE submissions and our team is very quick to respond.
What elements do you look for in a floral arrangement to make it cover ready?
A cover-ready arrangement does not need to be over the top, it just has to have a seasonality and beautiful background, and of course, the flowers and design really fresh. We love an interesting container but not one that distracts from the "star of the show".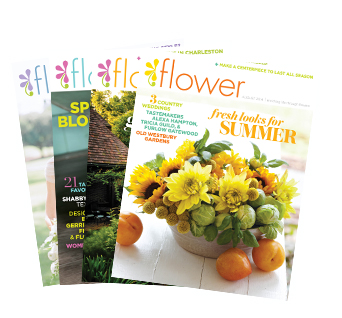 What do you see as the next big thing in floral design? What has seen its day?
I think the next big thing is just more of the green/slow flower idea, whether its organic plant material, or just something locally grown, versus imported. The loose, garden-y look is one of my favorite throwback styles that I hope will endure. The element of simplicity seems to be gaining ground, whether it's monochromatic arrangements or mono-bloom. I'm not sure what's seen it's day, as my sense is we're just embracing more design styles and retaining what's still good design. I still love a beautiful French hand-tied bouquet, or a sphere of rich red carnations in a footed urn, as well as a big mixed English arrangement on a console in the foyer of an important venue. So, these favorites of mine will always be in vogue with me.
What do you feel is the biggest challenge facing the floral industry?
With all the DIY blogs, Pinterest, etc., the industry MUST continue to emphasize its strengths. I think it's really important for a designer/retailer to not only market themselves, but offer educational options. It's one way to expose consumers to good design, and instruct them about flower care and mechanics, all the while having them in the shop/studio being familiarized with the of course, unattainable expertise of the actual designer. So we want to inspire civilians to arrange, but always foster an appreciation for the high level of skill and talent of the professional. The more people are empowered, the more they'll see flowers as a necessity vs. a luxury, and that's good for all of us!
Where do you find your inspiration?
I find my inspiration almost everywhere – design books, flower shows, garden tours, travel in general, fashion, interior design, even music. I think the world of design is so interrelated , with all mediums feeding off each other. Our new slogan at "flower" is "flower as a verb" meaning, a lifestyle that flourishes…
Which blogs & magazines do you read?
Well, Flirty Fleurs of course, Style Blueprint, Slow Flowers, Faith Flowers, Flower School of New York, Emily Thompson Flowers, All the Best, Cote de Texas, Honey of a Thousand Flowers, my list is pretty long, but that's a good smattering of blogs, and magazines I read/have and hope to read: Garden Design, Architectural Digest, Elle Décor, House Beautiful, New Yorker, Victoria, Southern Living, Garden and Gun, Art and Antiques and every now and then, Rolling Stone (I'm a music fanatic)
If you were to design an arrangement for your home today what style would it be
and what flowers would you use?
Loose, garden-y, most likely from my garden, augmented by some gorgeous dahlias from my wholesaler, or whatever's in season, that I don't have in my garden.
And, I have to ask– what's your favorite flower?
Right now, it's either the scabiosa or the poppy. They're so simple and playful. I like things that don't take themselves too seriously, have movement, and a little sass.
Thank you, Margot, for sharing your passion for flowers with us! So great to get to know you a bit better!
For more information on flower magazine – click here
Related posts: